Roof Systems
Options for freestanding rooms and deployable shelters.
For freestanding cleanrooms, isolation rooms or deployable shelters that will require a roof, PortaFab has two options.
Steel Corrugated Decking
Standard designs utilize a 22-gauge corrugated roof deck, 1-1/2" deep, painted and cut to length. This decking is supported by the framing system and lies within the cornice mold or top cap of the enclosure. The underside of our roof decking can be painted white for greater light reflection resulting in a clean and professional look.
Units can be fitted with load-bearing roof beams or bar joists to provider greater support and longer spans without the use of interior support columns.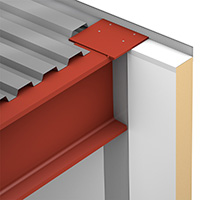 Panelized Roof
Our panelized roof system provides a greater amount of insulation (R-value of 24) to meet temperature and air quality requirements for ultimate control. Furthermore, this system frees up interstitial space between the roof and ceiling, providing the extra room needed for trades to run MEP (Mechanical Electrical Plumbing).
Our panelized roof consists of foamed-in-place non-CFC polyurethane between G-90 galvanized 22 Ga. steel facings, painted white with smooth surface options.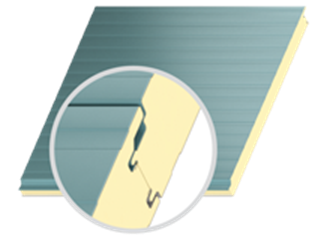 Load-Bearing Capabilities
While some modular systems on the market are made of flimsy materials, PortaFab systems are designed for the most demanding environments. The stud posts in our wall systems are structurally designed to support up to 125 lbs/square foot - ideal for creating walkable platforms or to support heavy equipment like lighting and fan filter units, common for grow environments.
In addition, we can provide a number of accessories to finish out the load-bearing system including: stairs and landings, handrails, swing gates and other options to finish off your structure.