Doors
Improve Control & Efficiency
Given the requirement that infectious control rooms typically require self-closing doors on all exits, PortaFab's offers of a number of door options. Options range from our stocked single and double doors with standard self closing hardware to more sophisticated sliding, roll-up and specialty doors.
PortaFab wall systems are designed to seamlessly integrate a wide variety of these door options.
Single Doors with Standard Self Closing Hardware
Our standard single cleanroom doors are precision manufactured and available in unlimited surfaces including steel, fiberglass, aluminum and stainless steel. Plus, they can be outfitted with standard self closing hardware as well as a variety of options including vision panels, push/pull hospital latches and more.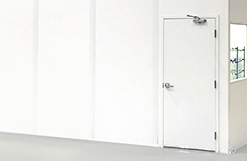 ---
Double Doors
Featuring the same durable construction and options as our single doors, double doors allow for the easy movement of patients, equipment and personnel throughout a facility.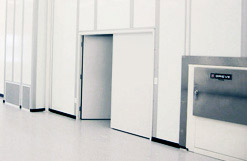 ---
High-Speed Roll Up Doors
With sizes that extend up to 18' x 18' high speed roll up doors are designed to open and close very quickly to reduce the time the cleanroom interior is exposed.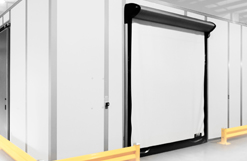 ---
Sliding Doors
Sliding doors easily integrate into our wall systems and are available in any size with a variety of hardware available including push button entries, motion sensors and non-outgassing seals.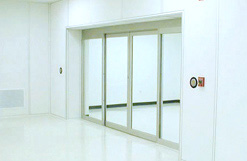 ---
Specialty Doors
We also have the ability to integrate a wide variety of specialty doors into our modular systems.